NOVA-TECH Spółka z o.o. owns office and manufacturing space of 4,500 m2. The entire space is heated with modern and environmentally-friendly heat pumps. The manufacturing halls are equipped with two overhead cranes (8 and 12 tons) and a variety of basic and specialist machines for treatment of metal. Our machines eliminate manual work as much as possible, which also improves efficiency and quality, and limits costs. Beside basic operations, such as cutting, rolling, welding or assembly, our machines enable us to perform water jet cutting, section rolling, metal plate bending with the use of a numerically controlled press as well as automatic welding.

Modern devices which we use in our manufacturing process enable us to successfully perform even the most complicated tasks.

WATER CNC Water Jet Cutter
SP Water 4001.20W ? year of manufacture: 2007
SP Water series machines are used for precise cutting of various materials with a clean water jet or water jet with abrasive material. The carriage system is separated from the table, which makes it possible to lay thick materials with thickness of up to 200 mm, width of 2,000 mm and length of 4,000 mm. In our water jet cutter, KMT pumps are used. KMT is a world leader in the manufacturing of this type of devices. The cutter is equipped with a B+R control system and uses WRYKRYS software.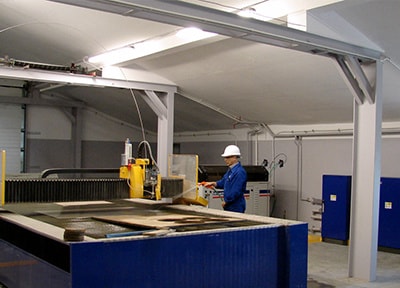 AKYAPAK Four-Roller Hydraulic Rolling Mill
AHS ? year of manufacture: 2007
Four-roller cylinders are used for shaping materials. The machine offers the ability to bend closed and semi-closed pipes as well as cones in the following working range: length of 3,100 mm, thickness of up to 13 mm; for material quality compatible with S235. The rolling mill is equipped with middle and side supports, which enables us to bend material with large diameters and without any deformation.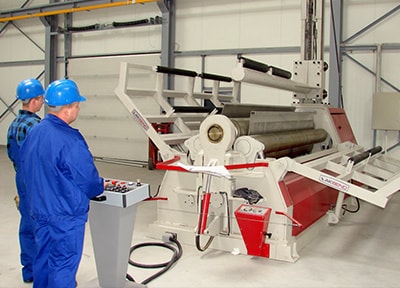 APHS BAYKAL CNC Bending Brake
CNC APHS BAYKAL ? year of manufacture: 2008
A bending brake can be used for bending flat metal material up to 4,100 mm long with the use of hydraulic servos having adjustable maximum pressure of 300 tons. With maximum pressure, material thickness may equal up to 8 mm of stainless steel sheet. The brake is equipped with segmental punches and dies of high quality tool steel, which undergo grinding and induction hardening. A polygonal die and suitably selected roll formed punches enable use to produce bends of complicated shapes.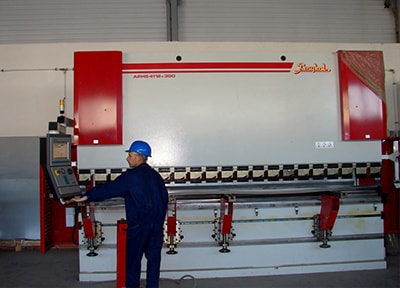 MGH BAYKAL Hydraulic Shearing Machine
MGH BAYKAL ? year of manufacture: 2007
Cutting of flat materials up to 4,100 mm long (sheet), with thickness of 10 mm for stainless steel sheet and 13 mm for carbon steel sheet. The cutting is done by two upper and lower blades with a swinging motion. The shearing machine has openings on side frames to help cutting narrow longitudinal strips. The rear measurement system is used to position material under the cutting blade at a desired distance. Data and programs are stored in a flash memory with the capacity for storage of up to 99 programs composed of 20 cycles. Each cycle may have maximum 65,000 repetitions.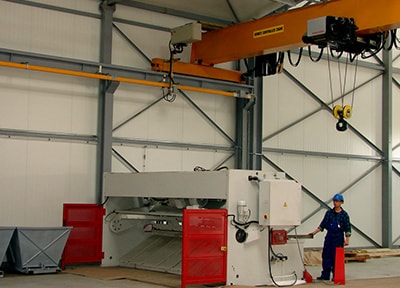 AKYAPAK Pipe and Section Bending Machine
APK - 81 ? year of manufacture: 2007
A set of standard and specialist upper and lower rolls allows bending of flat, round and square bars, pipes as well as T, NPU, NPI and other sections, made of various steel grades with replaceable rollers. Various shapes are possible, as well as different degrees of roundness, which includes creating twisted structures out of flat bars and pipes.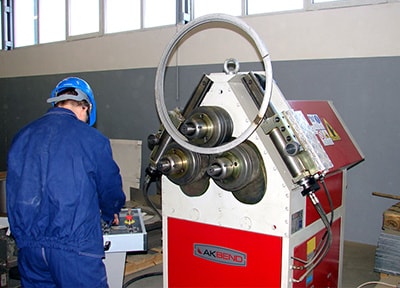 TKC 800/5000 C ? year of manufacture: 2007
Various types of internal and external turning of cylindrical surfaces with the length of 5,000 mm and diameter of 800 mm. Possibility of cutting of various threads (metric, V-shaped inch, British Standard Whitworth, modular, spherical diametrical), as well as turning cones. The final product my achieve accuracy of IT6-7 class and roughness of Ra = 1.6 ?m.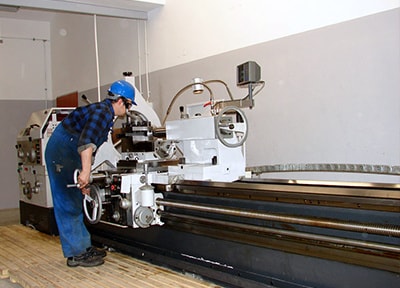 PEGAS - GONDA Band Cut-Off Machine
HORIZONTAL ? year of manufacture: 2007
Semi-automatic, very efficient band cut-off machine for steel (including tool and stainless steel), non-ferrous and light metals, with the option of cutting at an angle of -60 to +60 degrees. Maximum dimensions of the cut item are 600 x 440.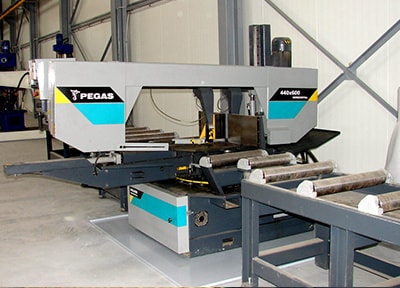 A-CNC ? year of manufacture: 2007
A very efficient machine with a hydraulic drive. It is fully programmable in respect of the length and number of cut items. Can be used of cutting steel (including tool and stainless steel), non-ferrous and light metals. The machine is equipped with a vice which allows cutting at the angle of 45 degrees to the right in the automatic cycle, and up to 60 degrees in the semi-automatic cycle. The length of feeder is 520 mm.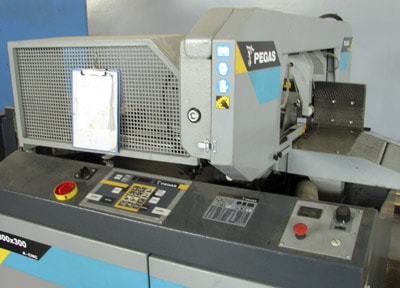 Multi-Purpose Milling Machine
LM 1450 ? year of manufacture: 2007
Vertical and horizontal milling of items, treatment of surfaces of revolution, or grooves. Split cutterhead allows the spindle to work at any angle, which makes treatment of vary complicated objects possible. Working table dimensions: 1,450x360, table travel: 1,000 mm longitudinal, 350 mm transverse, 400 mm vertical.
Surface Grinder with Horizontal Shaft
M7130 A ? year of manufacture: 2007
Flat surface grinding in items with maximum dimensions of 300 mm x 1,000 mm x 400 mm. Edges may be ground using the grinding wheel?s lateral surface.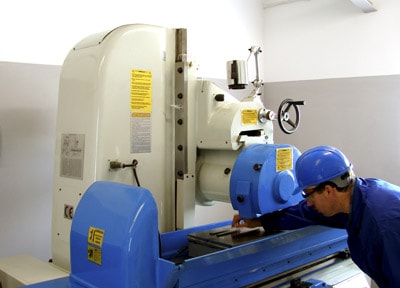 Welding equipment: LINCOLN, KUKA
POWERWAVE 405M, INVERTEC V270 IR 363
Enables welding using the following methods: TIG HF&Lift, Tig Plus, shielded metal arc and MIG/MAG. We use automatic welding machines for works where immaculate welds are required.