We Manufacture Environment Protection Devices

Environment protection is one of the main global challenges at the moment. On a daily basis we hear about global warming, excessive amounts of rubbish and other problems. In response to this situation, the management of NOVA-TECH Spółka z o.o. decided that the company should produce environment protection devices, such as grinders, which can be used to process solid waste (for example wood) into environmentally-friendly fuel. The quality and efficiency of these devices have already been proved.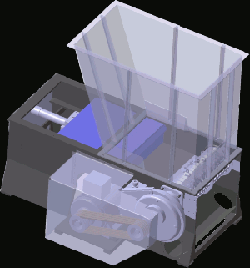 Above, a 3D model of the NTR 6-1 grinder with a hydraulic pusher for ground material.
Our devices can be used for grinding wood, waste paper and plastics. They are suitable for both small as well as large plants.

We manufacture these machines of the highest quality carbon steels. The cutting and crushing components undergo hardening and tempering.
 
The cutting components are driven by high quality motors and transmissions, which thanks to their compact size and low weight considerably reduce the dimensions of a device.

We manufacture 4 types of devices, with different cutting shaft sizes and motor powers.
 
New! Latest Type of NTR 6-0 Grinder!


We have launched a new grinder! With small size and simplified structure – obtained, among other things, by removing hydraulic elements– the machine, while retaining its general-purpose character, is offered to private users and households at a competitive price.
Device components are shot peened and coated with special paint with a RAL colour chosen by the customer.
 Grinders
Type
Shaft [mm]
Power
Booster hydraulics
Knife size [mm]
Output [kg/h]
Diameter
Length
Hardwood
Softwood
Chipboard
 NTR 6-0
  O260
 650
 12 kW
 -
 30 x 30
 175 - 230
 170 - 220
 230 - 320
 NTR 6-1
 O260
 650
 18,5 kW
 +
 30 x 30
 250 - 330
 240 - 310
 330 - 460
 NTR 8-2
 O330
 820
 22 kW
 +
 35 x 35
 400 - 520
 350 - 460
 430 - 600
 NTR 10-1
 O350
 1020
 30 kW
 +
 50 x 50
 1150 - 1500
 1100 - 1400
 1250 - 1750